The Department of Public Policy's (DPP) Graduate Association of Public Policy Students (GAPPS) – International City/County Management Association (ICMA) chapter is happy to introduce our 2021 Chapter Officials. Over the next few days we will be featuring GAPPS-ICMA's newly elected leaders with a Q & A. Today's feature is incoming President Paula Norato, MPA '22.
---
Why did you decide to run for office within GAPPS-ICMA?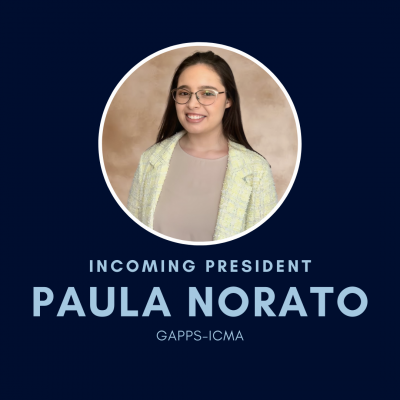 I decided to run for office within GAPPS-ICMA because I really enjoy connecting with my peers. Throughout my first year I had already organized several virtual events, study sessions, and group chats. I believe communication is important, especially in a virtual environment, and thought that this position would offer better resources to help create more spaces like this for DPP cohorts.
What do you hope to do with GAPPS-ICMA this upcoming academic year?
I am hoping to get students back into some socially distanced events related to networking and community service. I would also really like to hold events with students and faculty to get to know each other better, as many students missed that during this virtual year. My ultimate goal is to help people build relationships within DPP and the Hartford community.
Why did you decide to pursue a MPA?
I finished my undergraduate with a B.S. in Molecular and Cell Biology, and although it was very interesting, it was not something I was very passionate about. The positions I held related to work during this time all involved community work, data research, and a connection to programs that helped students in need. I realized that what I am really passionate about is helping people from the Latine and other minority communities. I believe an MPA degree will better prepare me with the tools and skills I need to work in positions that advocate for these communities.
What do you hope to do post-grad?
Post graduation, I would really like to end up in a position that allows me to work on programs that aid minority and low-income communities, hopefully in the New England area!
What is your favorite DPP memory thus far?
I attended an in-person Saturday class with Amy Donahue during the Fall 2020 semester. At this time, I was still very nervous about the pandemic, but I also missed interaction with people. Amy's class is where I believe I really formed good relationships with peers in my cohort. My favorite memory was eating lunch together in the patio at the Hartford Times Building on a Saturday afternoon.
What is your favorite thing to do in Connecticut?
I grew up in Illinois, and am still getting to know Connecticut, but I have to say I love being able to drive to the beach!
A fun fact
My family rescued a husky this past summer, and he has been getting to know Connecticut with us! We hope to get him swimming this year.