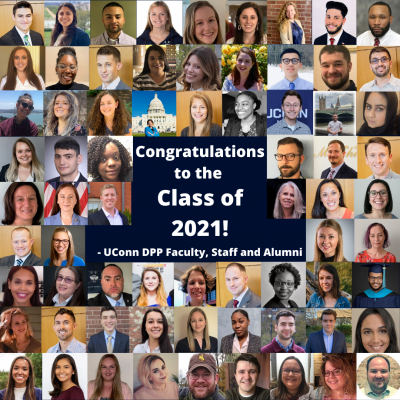 The Department of Public Policy (DPP) celebration kicked off with Professor Kerri Raissian who served as the Mistress of Ceremony. Professor Raissian welcomed faculty and the graduates through a "virtual procession" and introduced the speakers for the evening. 
Professor and Department Head Mohamad Alkadry provided welcoming remarks and noted that the class of 2021 is DPP's largest and most diverse graduating class, a claim the Department has had for the last three years. Professor Alkadry emphasized the resiliency of our graduates, a theme that would be continued throughout the evening. He also highlighted the work of faculty and staff to support student endeavors. 
College of Liberal Arts and Sciences (CLAS) Dean Juli Wade spoke next, providing remarks to a virtual audience from near and far. She noted the graduates have already provided an "…unparalleled example of public service at the local level." Dean Wade also highlighted how the DPP "…exemplifies many of the missions of our college…[through a combination of] skills and analysis, experimentation and prediction and an understanding of social dynamics and the experiences of individuals and their communities." Her remarks concluded with a hope that the DPP's newest alumni would continue to engage with UConn. The impact of DPP alums was also emphasized by Student Speaker Essam Boraey who spoke next. 
Essam's remarks provided "…a reflection point of who we are as a Department, a generation and a class." He told the story of his exile from his home country of Egypt due to his role in fighting for human rights and democracy. His exile began on the steps of the Egyptian Supreme Court amongst fellow youth activists, which led to his role in the Egyptian Revolution and the aftermath. While sitting in the Amsterdam airport on his way to Washington D.C., Essam spent hours reflecting on his efforts to provide the same freedoms and privileges to all which he was afforded. During this time he saw an opportunity to persevere and keep fighting for his friends and fellow freedom fighters who lost their lives in pursuit of human rights and democracy. He noted, "Everyone faces challenges in their lives both big and small. Setbacks are normal, but how you respond makes the difference.  COVID-19 has been a challenge for all of us and a lesson how to get creative and be persistent. You can sit back and watch life pass you by, or you can lean on the support of your loved ones and get up and keep going." Essam concluded by stating the DPP's latest graduates had already built a network of support with DPP alums at the forefront of leadership in Connecticut. This fall Essam will be pursuing a PhD in Business Administration at UConn. 
Provost and Executive Vice President for Academic Affairs Carl Lejuez spoke next and served as the evening's Keynote Speaker. Provost Lejuez emphasized how faculty, staff and administrators look forward to seeing how the graduates will utilize what they learned as UConn students and members of their community in both their careers and lives. Through life transformative education, Provost Lejuez emphasizes how the UConn community strives to build meaningful, individual and emotional connections in order to help students discover their purpose, direction and passion. It also means hands on experiences, which graduates have been afforded through internship opportunities. This year the DPP impacted more than 50 state agencies, municipalities and nonprofits through more than 30,000 hours of service. Provost Lejuez emphasized student resiliency through the online transition due to COVID-19 with students spending over a year of their two year program online. 
After Provost Lejuez, Professor Raissian presented the Graduates. 
The evening concluded with Alumni Council Speaker and DPP Alumni Council President Larisa Kottke (MPA '13) welcoming the students to the alumni side of the DPP Network. 
---
Thank you to DPP staff Catherine Guarino, Wade Gibbs and Maura Maloney for putting together this virtual event. A recording will be made available in the coming weeks.