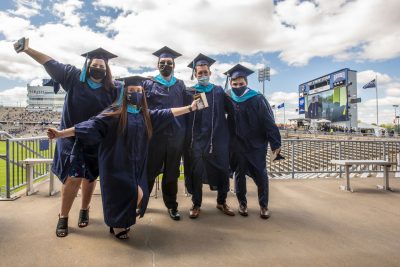 In this newsletter we celebrate the accomplishments of our students and alumni. We also celebrate the induction of 81 of our graduating students into our community of over 1,400 alumni.
This year, the department graduated its largest class ever – a claim that has been true for every one of the last three years. This class is also our most diverse class ever. Our graduates include nine Survey Research graduates who will join our alumni in leading the country's polling and research industry. Our graduates also include sixteen Master of Public Policy and fifty-six Master of Public Administration graduates. These graduates will join our alumni as professional analysts and managers in public service organizations.
Twenty-three of our graduates this year make up our second cohort of MPA Fellows. These are public and nonprofit professionals who chose to earn an MPA degree while holding a leadership role at work. They persevered while juggling school, family, and work responsibilities, all while in the middle of a public health crisis this year.
In this newsletter we also celebrate the graduation of a new class of Encore!Connecticut fellows. They will go on to lead amazing careers in the nonprofit sector after having successful leadership careers in the private sector. We all admire their interest in public service careers and we are glad to have been in their path to accomplish their goals.
We had a tough year but a very successful one in terms of graduate education, outreach and service, continuing education, and scholarly and applied research. Our accomplishments in each of these areas set new records this past year. These achievements would not have been possible without the dedication, excellence, and professionalism of an amazing team of faculty and staff colleagues.
The resilience of our students during this pandemic was also awe-inspiring. That resilience was matched by resilience of our alumni at the frontlines of responding to the current crisis triggered by the pandemic.
Congratulations to our students and graduates on their accomplishments, and I look forward to hearing their good news in the near future.
Sincerely yours,
Mohamad G. Alkadry, Ph.D.
Professor & Department Head