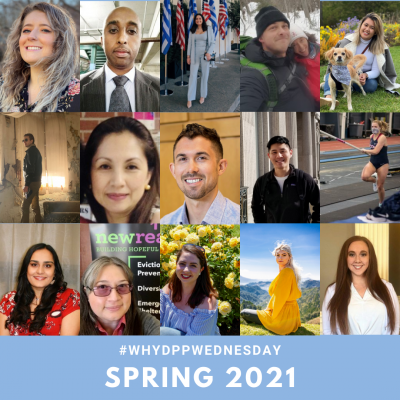 Since launching our #WhyDPP campaign last fall, we have had the unique opportunity to showcase how members of our community define public service and their purpose with the support of the Department of Public Policy (DPP). 
We kicked off the New Year with

Katarina Moroch

, a public administration (

MPA

) '21 alum with an interest in how policies directly impact social service agencies.
MPA '22 student

Yusuf Dirow

decided to pursue a career of public service because of his interest in civic participation, advocacy, volunteerism and government-nonprofit relations. 
Encore!Connecticut

2020 alum

Jason Hyland

is

utilizing his new skill sets to connect youth and communities through experiential education in nature as the Executive Director of Project Imo, Inc.
For Valentine's Day we asked various members of our network

"Why Do You Love DPP?"

Responses centered around community and support, the diversity of experiences and the ability to utilize their education to make an impact. 
MPA '20 alum

Alexandra Garcia

 

is utilizing data to tell stories as a research assistant with UConn School of Social Work. 
Current

Fast-Track

and incoming MPA student Ethan Couillard was inspired to pursue a career of public service after being diagnosed with Crohn's Disease.
After losing her job during the pandemic, nonprofit student

Joan Gomez

sought to fight back, and now she works at The WorkPlace and helps those who are unemployed.
Public Policy (

MPP

) '21 alum

Burton Guion

hopes to work in local or state finance as a budget analyst.
MPP '22 student Alex Wang

 hopes to work in policy analysis in the public sector after graduation.
Laurel Bailey

, MPA '21 hopes to solve public sector problems as a financial analyst post-graduation, and sees a sound financial base as a necessity to improve life for everyone.
Yasmeen Saeed

, MPP '22 hopes to utilize her degree to generate a more accessible and equitable healthcare system. 
Ciara Hanlon

 

pursued her MPA degree part-time while working at UConn and hopes to continue her career in higher education administration or fiscal management at the local and state

 level.
Michelle Skowronek

, MPA '22 hopes to utilize urban planning to reflect the needs of the people as an urban planner after graduation.
Former Fast-Track and MPA '21

Ali Degirolamo

wrapped up our first year of #WhyDPPWednesday with her efforts to empower and support the City of Waterbury, Connecticut.
---
Interested in being featured in next year's #WhyDPP campaign? Let us know at dpp@uconn.edu.