Each year, the Department of Public Policy (DPP)  helps students gain valuable experience by matching them with an organization that develops their skills and passions  through the Internship and Professional Practice Program (IPP). Shaun Simoneau, a former Fast-Track and current Master of Public Policy (MPP) student will be completing his IPP with Health Equity Solutions, a Hartford based non-profit that specializes in community engagement to influence health policy outcomes at the state level. Simoneau's love of public service grew out community organizing experiences such as working with his local Democratic Town Committee and organizing UConn students as an undergraduate. He then became involved with Bernie Sanders' 2020 campaign for President and after experiencing the sheer impact that people's power can have on politics and policy, he sought to continue to change systems to improve peoples' lives.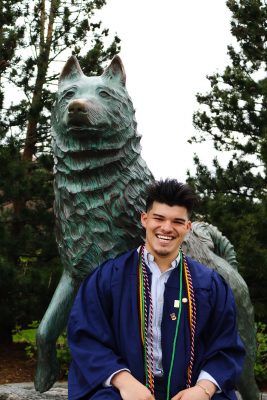 The opportunity to make an impact through Health Equity Solutions is particularly significant to Simoneau, whose mother was diagnosed with liver cancer in November of 2018. At the time, Simoneau was attending Springfield College with the intention of going to Physical Therapy School but he felt it was necessary to pursue his MPP after witnessing the complications that occurred between his mother and the healthcare system. Despite having his father's union health insurance, co-pays racked up, the insurance company did not approve some physician recommended tests, and would eventually deny his mother a cancer treatment citing it was "not medically necessary". Denial of treatment rapidly accelerated his mother's condition, and consequently, she passed a couple of months after fighting with the insurance company. These events opened Simoneau's eyes to the immense failures and weaknesses in the healthcare system. Shortly after, Simoneau transferred to UConn as a Political Science student to complete the remainder of his undergraduate course and enrolled in the Fast-Track to gain the skills necessary to devote his career to ensuring what happened to his mother won't happen to anyone else.
The Fast-Track program not only let Simoneau begin courses as an undergraduate, but offered a tuition waiver for the year spent in graduate school, which was an important factor for Simoneau, who is one of millions of students who will graduate college with student loan debt. The IPP experience, vast network of alumni, and exceedingly qualified professors sealed the deal.
Simoneau is applying his DPP skills in his role as Policy Development, Research and Analysis intern at Health Equity Solutions. The organization played a pivotal role in the formulation of SB-1 which declared racism a public health crisis. Simoneau continues this work by ascertaining communities' top public health concerns in "Listening Sessions" where attendees discuss issues. He then compiles a data report of responses into the following categories: addressing barriers to health, healthcare access and affordability, mental health, systemic racism in healthcare, and culturally competent care. Through this work, he has discovered an increase in people lacking basic necessities in the past year, including housing, transportation and access to quality nutrition. Another category with a significant increase in responses is mental health, specifically culturally responsive mental health care. This finding was particularly interesting to Simoneau as he says, 
"This one hits home for me because my upbringing was with a traditional Latino mother. Not to generalize, but most minority groups including Black and Latinos do not acknowledge mental health due to cultural norms. To see this exact response shows me that some people are sensitive to this phenomenon, and people want to do something to destigmatize the taboo of mental health care and seeing a therapist in minority families."
Simoneau's work does not stop there, however. Once the report is concluded, the Health Equity Solutions team meets to determine how to put the data into policy language. Next, they will either advocate for their own legislation or fight to add the language into existing legislation by lobbying politicians, testifying, and/or drawing popular support for their platform through Health Equity Week in April. Simoneau is excited for the year to progress and feels like although his title is intern, he is an integral part of the team and his skillset is appreciated. 
After graduation Simoneau wants to continue working in health policy for either the government or a non-profit organization. His aim is to improve health outcomes for those most adversely affected by dysfunctional health policy such as, low income, minorities, and people (specifically women) who cannot change jobs without losing their healthcare. Beyond this goal, he would like to eventually be able to open his own non-profit to fund the education of low income students so they can pursue their passions like he has. The DPP wishes Shaun Simoneau continued success at Health Equity Solutions and beyond!