Community and service have been a part of Veronica T. DeLandro's everyday life since she went to college at Hampton University. There she helped register people to vote as a member of the NAACP, as well as grew a bond with like-minded people to form the Students Raising Awareness (S.R.A.) Chapter for Habitat for Humanity. Presently, she is still involved with the NAACP and Habitat for Humanity, as well as The Links, Inc., YWCA, Delta Sigma Theta Sorority, Inc., and the New Britain Democratic Town Committee. In discussing her service, DeLandro says, 
"In these organizations I make it a point to serve in a capacity where I'm able to advocate for individuals, communities, and groups that are disenfranchised and have been ignored."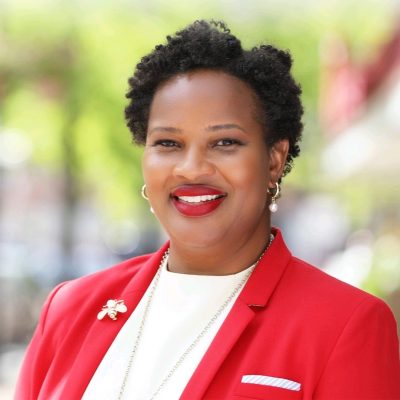 This is the sentiment she built upon when, in 2017, she turned her passion into action and ran her first political campaign in which she challenged an incumbent for a city council seat. She lost by a close margin of 162 votes, and just the next week she was appointed Clerk of Committees by the Common Council of New Britain by unanimous vote. DeLandro is the first woman, and first African American, to be appointed to this position. 
DeLandro's drive to serve, commitment to leadership, and recognition of those voices long ignored in New Britain led her to form an exploratory committee to run for Mayor in 2021. She knocked on doors, canvassed, and connected with residents to amplify their care and concerns for eight months, but unfortunately did not receive the number of signatures required to be added to the ballot. Regardless of the outcome, DeLandro says she is proud of the fact that she ran an advocacy-focused, policy-driven and people-centered campaign, always putting her commitment to community service first.
DeLandro's commitment to her community also motivated her to pursue her Master of Public Administration (MPA) with a concentration in Nonprofit Management, which she graduated with in 2009. She was transitioning from her work at ESPN in the corporate sector to the nonprofit sector, working at the Governor's Prevention Partnership. She had considered going to law school until she heard about the Department of Public Policy's (DPP) MPA program, which can be tailored to focus on nonprofit work. She was impressed with the MPA's national ranking and the ability to pick a concentration.
The MPA program equipped her with the tools she needed to to be effective in a nonprofit organization, and within three years of receiving her degree, DeLandro became the Executive Director for College Summit. In this role she was responsible for the growth, sustainability, fundraising initiatives, and program implementation for the Connecticut Region working with high schools in Hartford, Bridgeport, New Haven, and Willimantic. Since then, DeLandro has had several exciting experiences. She was appointed as District Director for the 5th Congressional office in 2018, after Jahana Hayes became the first African American woman to represent the State of Connecticut in Congress. Then, during the pandemic, DeLandro founded VTD Consulting Group. VTD Consulting Group is an organization that provides leadership coaching, training, and consulting to nonprofit organizations and boards throughout Connecticut. She has just recently taken on a new role as the Senior Advisor for the #GetVaccinatedCT campaign where she supports a team of community organizers, small businesses, influencers, and stakeholders to increase the number of Connecticut residents who receive the vaccine in Bridgeport, Hartford, New Britain, New Haven, and Waterbury while addressing vaccine skepticism, and improving health outcomes for communities of color. DeLandro's commitment to disenfranchised communities is clear in everything she does, and the DPP is delighted that the MPA program has helped facilitate her growth as a community leader.