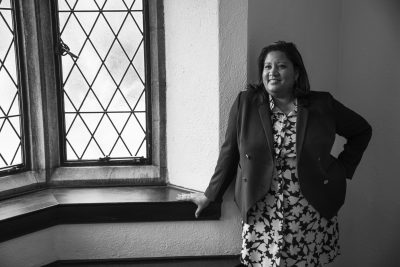 The School of Public Policy (SPP) is proud to announce Connecticut State Comptroller Natalie Braswell as the 2022 Distinguished Alumni Award Recipient. Comptroller Braswell will also serve as the Keynote Speaker at our 2022 Ceremony to Honor Our Graduates.
A Triple Husky, Comptroller Braswell completed her Master of Public Administration (MPA) from the Department of Public Policy in 2002. She completed her Bachelor of Arts in Political Science from the University of Connecticut (UConn) in 2000 and her Doctor of Law in 2007 from UConn Law.
She was appointed State Comptroller earlier this year after serving 10 years as General Counsel and Assistant State Comptroller to her friend Kevin Lembo. She previously served as the Chief of Planning, Legal and Regulatory Affairs for the Connecticut Department of Energy and Environmental Protection (DEEP) from March to December of 2021. Throughout her career she has modernized state services and saved Connecticut taxpayers money. Her ability to negotiate and lead technology, health care and diversity, equity and inclusion initiatives prepared her for her latest role.
Since her appointment as Connecticut's first Black comptroller, she has launched two important programs focused on retirement savings and COVID-19 relief. The former, entitled "MyCTSavings", is sponsored by the State of Connecticut's Retirement Security Authority and is directed by SPP alum Jessica Muirhead (MPA Fellow '20). With "MyCTSavings" more than 600,000 private-sector employees in Connecticut can now save in a convenient account they can take with them. The latter, known as the Connecticut Essential Works COVID-19 Assistance Fund, helps to ease the financial burden for essential workers who contracted COVID-19 and became ill and unable to work or died between March 10, 2020 and July 20, 2021. Through the fund, essential workers are assisted with lost wages, out-of-pocket expenses and burial expenses.
SPP Director Mohamad Alkadry notes, "Comptroller Braswell has been an extraordinary public servant serving the residents and leaders of the State of Connecticut. We look forward to celebrating her exemplary service on May 9th, and look forward to hearing about Natalie's future successes."
We look forward to celebrating Comptroller Braswell, our 2022 graduates and our other nominees next week!