Recently we caught up with UConn School of Public Policy (SPP) 2022 Student Speaker Paula Norato about her job at Harvard and the impact of her Master of Public Administration (MPA) experience. Paula's words at our celebration inspired us to be vulnerable, and she utilizes that vulnerability in her day to day work. Below you can read about Paula's career in her own words!
---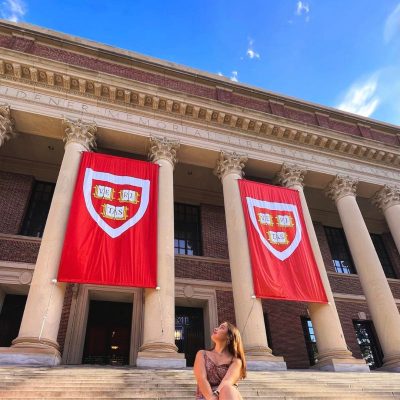 I am grateful to have been working my full-time job since January of 2022, although juggling that with full time school and two other jobs took some serious Google calendar editing. Working at Alumni Affairs and Development at Harvard has already been a great experience. I'm a Development Assistant supporting two gift officers who build relationships with prospective and current donors in the 100k to 1 million gift range. I've learned so much about how our work directly impacts student scholarships, and the student experience in general. Our department works hand in hand with the Dean of Faculty of Arts and Sciences to define our fundraising goals and exceed them in order to provide students with the support they need, not only to excel academically, but to get the full college experience. Most recently I had the pleasure of working Harvard reunions and got to meet and work with alumni from the class of 1997. It was incredible getting to know what Harvard was for them, and seeing how excited they were for the progress it's made and for the future it's headed in.
While I had previous experience in the field of Development with two other higher education institutions, I recognize that the coursework from my MPA program really helped to prepare me for this job. The relationships I built with professors and the advice they gave us to create leaders in whatever sector we wished to enter really impacted how I carry myself and how I view my work within a larger institution. Funny enough, one of my favorite SPP memories comes from the handful of classes I had on Saturdays from 10 am to 4 pm with Amy Donahue, where we discussed true leaders, how it is not constrained to a leadership or management position, and how honesty, vulnerability, and good communication plays a key role. I will carry that lesson with me for the rest of my life and count myself lucky to have learned under her alongside my classmates.