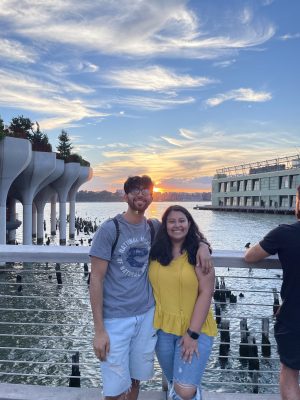 UConn School of Public Policy (SPP) Master of Public Administration (MPA) student Ghammam Mansoor found a passion for public service while growing up in the City of New Haven, Connecticut. He explains,
I walked into college aware of how socio-economic disparities can drastically influence some communities' access to things like housing conditions, education and healthcare. As I grew older and moved through the phases of my early adulthood, I began to realize that it is our responsibility as individuals to dictate change in our own communities.
In order to capitalize on his STEM and social science knowledge, Ghammam sought a MPA as a way to impact the systems around him.
Last year Ghammam worked as a Business Development Intern with the Artist Collective in Hartford, CT. While with the multi-arts nonprofit, he helped design and implement structures to improve alumni involvement including an association within the organization. He also helped to create and design a social media presence to increase community engagement. Ghammam's internship was facilitated through SPP's Sponsored Internship program.
During the spring semester, Piglet International sought a Project Management Intern for the summer. Director Melissa Shapiro, DVM connected with SPP Director of Engagement Ryan Baldassario to fill the position. Ghammam says, "I thought the organization had an honorable mission: spreading the message of inclusivity while advocating for disabled animals and children." His commitment to the mission lead him to apply and his position involves advancing projects and initiatives that will aid the nonprofit's growth.
Initially he helped with fundraising efforts. Throughout the summer he started drafting documents to survey the qualitative impact of the organization. He has also applied for partnerships amongst similarly driven organizations and began handling communication efforts to further publicize the nonprofit.
For the 2022-2023 academic year Ghammam will be working with Trinity Health of New England's Department of Community Health and Wellbeing. In this new role he will be assisting with program coordination, grant writing, research and data analysis. He hopes to help the organization improve health equity by bridging the gaps between the community and hospital system.
After graduation Ghammam hopes to become a healthcare administrator and continue his passion for combining STEM and social science skillsets. He explains
Throughout my duration in the MPA program, I've understood the importance of policy and systemic structures and the implications they have for the community. As a healthcare administrator, I hope to be able to play a role in the healthcare systems around me, and by extension, play an active role in improving it for the communities around me.
We wish Ghammam and the rest of our 2022-2023 interns the best of luck this academic year, and we look forward to sharing their IMPACT across our platforms!