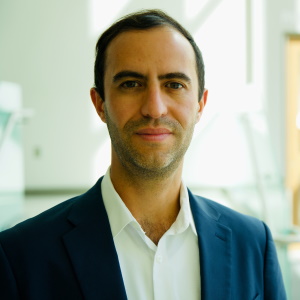 School of Public Policy (SPP) Professor Renzo de la Riva Agüero joined our faculty this fall with a focus on public management, comparative politics and public policy.
This summer Renzo completed his Ph.D. in Public Policy at Indiana University – Bloomington. Renzo's dissertation entitled "Too Complex to Deliver? Administrative Capacity, Governance, and Waste Management in Peruvian Municipalities" examined service delivery in Global South municipalities. His work earned him the Ron W. Shin Fellowship for dissertations on environmental policy and research serving the public from the O'Neill School of Public and Environmental Affairs.
Earlier this year, Renzo's article entitled "Do cogovernance and CSOs supplement municipal capacity for service delivery? An assessment of differences in simple versus complex services" was named the only Editor's Choice article for Volume 32 of the Journal of Public Administration Research and Theory (JPART). This designation is assigned to articles that have made a high-quality contribution to the field. His research also received the 2022 Donald C. Stone Best Student Paper Award from the Section on Intergovernmental Administration and Management, American Society for Public Administration (SIAM).
This year, Renzo was also named a Founders' Fellow by the American Society for Public Administration (ASPA).