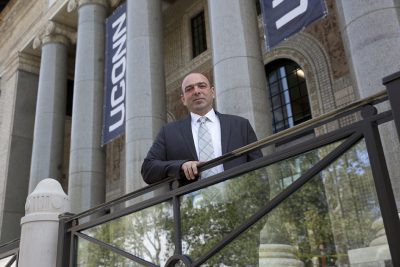 This is a very special time of the year. In my 23-year career in academia, I have only grown fonder of new student orientation day. The only thing that makes that day more thrilling is the reception where our students, faculty, staff, alumni and public service community members gather to celebrate each other and the induction of dozens of new students into our community and into careers in public and nonprofit service. I am proud of our new MPA and MPP students who chose, of all career paths, a career where they can make a difference. I am proud of our MPA Fellows who chose to invest further into their already successful public and nonprofit careers. I am proud of our alumni who are accomplished professionals. Their dedication to the success of the next generation of leaders is simply awe-inspiring. Finally, I am proud of our faculty and staff's commitment to a mission of preparing the next generation of public and nonprofit leaders with cutting-edge competencies. Successful scholars in their own right, my faculty colleagues are dedicated to the teaching mission of our School and to the success of our students during their academic journey and in their careers.
This year we are welcoming more than 76 new master's students in our MPA, MPA Fellows, MPP and MA in Survey Research and Data Analysis programs.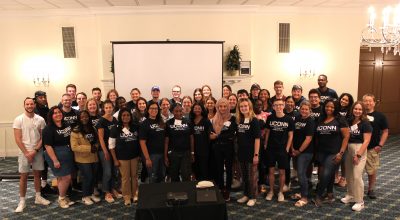 We are also welcoming 30 new graduate certificate students. We look forward to seeing these amazing, talented individuals in our classes and, more importantly, to the great things they will do when they graduate.
In addition to welcoming new students, we welcomed four new colleagues this year. These new colleagues will help us better prepare our students for their future careers. They will further make unique and novel contributions to knowledge in their fields and inform policy making.
Because the footprint of our School is bigger than our graduate programs and faculty, we are also celebrating the success of our outreach programs. We are welcoming 21 Encore Fellows in the Fall 2023 Encore Connecticut program. We are also welcoming our third cohort of emerging leaders of color – a program that is run in collaboration with the Community Foundation of Greater New Haven. Our continuing education programs are more vibrant than ever. Our Public Service Executive Leadership Collaborative has a promising program for this academic year. This is an important outreach activity for our community of public service professionals, our students and our alumni. Our Operations Coordinator, Maura Maloney, has worked with our professors and partners to curate a customized project management program for the Office of the State Comptroller. Our Director of Engagement, Ryan Baldassario, has been working on providing training and certification preparation to the State Registrar of Voters. The program promises to provide initial certification and continuing education training opportunities to the State's electoral system.
This October marks the second year since we welcomed the Institute for Municipal and Regional Policy (IMRP) to the UConn School of Public Policy. IMRP adds to our portfolio of contributions to improve the lives of the State's residents, particularly communities of color, in the State of Connecticut. We are excited about the quality of evidence-based research that is coming from our IMRP and SPP colleagues. Our Internship and Professional Practice program is stronger than ever. Our 57 interns will work in public and nonprofit organizations this Fall and Spring. Our mentoring program also engaged many of our alumni in its first three years, and is off to an excellent start this year. More than 100 of our alumni are engaged in our mentoring program. Many thanks to our mentors and our mentoring program director, Candace Fitzpatrick, for designing and managing this amazing program.
We will continue to post all job announcements on our alumni LinkedIn and Facebook pages. Three years ago, we also launched a moderated career listserv as a service to our students, alumni, and regional employers. If you have a position announcement to make, please email it to SPP@UConn.edu and we will forward to the listserv and post to our social media. We would appreciate you letting your HR staff know that we provide this service. Recent alumni are automatically added to the listserv while alumni who graduated more than three years ago can request to be added by contacting SPP@UConn.edu.
Finally, my family and I wish the families of our students, faculty and staff a healthy and successful academic year. We also wish our alumni's families a healthy year and continued success in their professional lives.
Sincerely,
Mohamad G. Alkadry, Ph.D. Professor & School Director