Welcome to our first edition of #TeachingTuesday for the 2023-2024 academic year. This week we catch up with School of Public Policy (SPP) Professor Elizabeth Burland!
---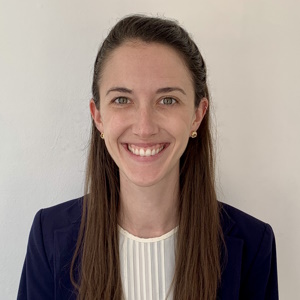 Question 1: Why did you decide to become a professor?
Becoming a professor allowed me to combine all of my professional goals – teaching, research, and policy change. I love that being a professor lets me teach students how to tackle policy problems through research, collaboration, and public policy. I've always been a very curious person – constantly learning new things and asking challenging questions about the world around me. Being a professor allows me to lean into the curiosity as a job! I feel so lucky to get to work with really smart and curious people who are all motivated to make the world a better, more equitable, place through public policy change.
Question 2: What are your teaching interests?
I love teaching education policy, equitable evaluation, and research methods. I especially appreciate when I can combine these interests. For example, I'm currently teaching about social equity in public policy and higher education policy. I also love teaching in more hands-on ways through involving students in research projects: teaching qualitative or quantitative research methods through applied research activities is the best way to do it!
Question 3: Why did you decide to come to UConn?
The students, staff, and faculty at the UConn School of Public Policy was really what convinced me. Everyone was so kind, engaged, and focused on leadership and public service. This positive energy is what attracted me to the school. I love working in interdisciplinary spaces, and being in the school I really felt the desire to work across fields, experiences, and backgrounds to solve complex policy problems and teach the emerging leaders in our state. I also grew up in Connecticut, and my big family is all in the area. While I loved my time living in other states, moving back to Connecticut means I get to spend more time with family. As a bonus, I've always been a big women's basketball fan, so it's great to be home. 
Question 4: If you weren't a professor what would you be instead and why?
This is a hard one! As a student, I went through a lot of different interests – I changed my major at least five times and tried out many different career paths. If I hadn't pursued my Ph.D., I likely would have continued working in policy advocacy at the state & local levels. In a completely different direction, I have gotten really interested in gardening – I think I'd pursue that if I had a second career choice! I love spending time outside and learning about how each plant works and thrives. 
Question 5: What is your favorite thing about Hartford?
It's so exciting to be in the state capital – the hub of state policy work and decision-making. The city is diverse, has a variety of career opportunities for students and community members, and its centrality allows you to get anywhere in the state really easily. 
Question 6: If you could travel to any location right now where would you like to go and why?
I'd love to see more of our country's national parks. Next one on my list is Acadia National Park in Maine – but I want to visit them all!