To Comply or Not: How Public Leaders' Gender and Communication Style Impact COVID-19 Public Rule Compliance Intent
Professor Sebawit Bishu, University of Washington, Seattle
Thursday, September 28, 2023, 2:00pm-3:30pm, HTB 208
Effective communication of policy directions to the public in times of crisis is essential. However, the effect of public leaders' gender on intentions to comply with rules has not been explored in the public administration literature. This paper investigates whether the governor's gender and communication style influence intentions to comply with rules during the COVID-19 pandemic. Using an online, vignette-based survey experiment conducted with a representative U.S. sample (n=1,243), the survey results indicated that exposure to a female governor reduced respondents' favorable intentions toward rule compliance. Yet, female governors' adoption of an agentic communication style mitigated this negative effect. In contrast, for male governors rule compliance intent was the highest when they used a communal communication style. In light of the findings, public leaders, such as governors, need to be cognizant of how their gender, combined with their communication styles, can influence diverse publics' compliance with policy mandates.
---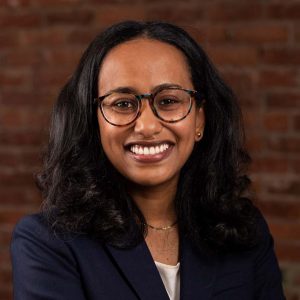 Sebawit G. Bishu, is an Assistant Professor of Public Management at the Evans School of Public Policy and Governance at the University of Washington, Seattle. Her scholarly work explores gender and race relations in public organizations, focusing on leadership, street-level bureaucracy, identity, and organizational behavior. Bishu applies her research within the context of human service organizations and local governments within the United States and Sub-Saharan Africa.
---
Please contact maura.maloney@uconn.edu if you have any questions.