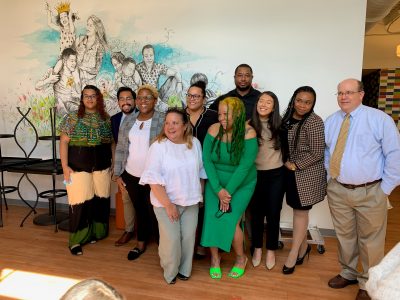 Last summer, the then Department of Public Policy, received a $45,000 grant from The Community Foundation for Greater New Haven (CFGNH) to develop training for nonprofit leaders of color. Last month the School of Public Policy (SPP) celebrated the graduation of the inaugural Greater New Haven Nonprofit Management Cohort: A Program for Emerging Leaders of Color. The program was initially known as the BIPOC (Black, Indigenous, and Persons of Color) Cohort for Nonprofit Leadership program.
Across nine-months the cohort met bi-weekly to develop the skillsets necessary to run a successful nonprofit. SPP Director of Nonprofit Leadership, David Garvey, constructed the framework of the program alongside Cynthia Rojas, a Fio Partner consultant. Participants collaborated with the duo to incorporate their own perspectives and priorities.
Garvey notes, "it's been an extreme privilege to be working with this cohort. Each member is making great strides in their nonprofits and their work."
The program covered topics on finance and accounting, governance, fund development, human resources, strategic planning, program evaluation, stakeholder communications, and community engagement. Lead by industry leaders, each session emphasized the issues and ramifications of race, equity and inclusion, and offered opportunities for reflection.
Rojas highlighted the importance of exposing cohort members to other BIPOC leaders, and the ability to network. She hopes that members may call upon each other in the years to come. Most importantly she emphasized the opportunity to reflect on what was being learned and heard on both an individual and collective level. This allowed members to see what was and was not aligning and offered space to discuss.
Participants included:
Jahnice Cajigas –Citywide Youth Coalition Inc
Christian Aviles –Squash Haven in New Haven
Antonio L. Coles, II–Columbus House and
Frankie Douglass – CitySeed
Chanelle Goldson –Children's Center of Hamden
Victoria Massey, D.M.D. –Fair Haven Community Health Care
Ala Ochumare –New Haven Pride Center
Landon Osborn –Connecting through Literacy: Incarcerated Parents, Their Children and Caregivers (CLICC)
Nicole Sanclemente –Connecticut Women's Education and Legal Fund
Kimani Sioux Williams –The Storehouse Project
Learn more about the cohort members in CFGNH's announcement article