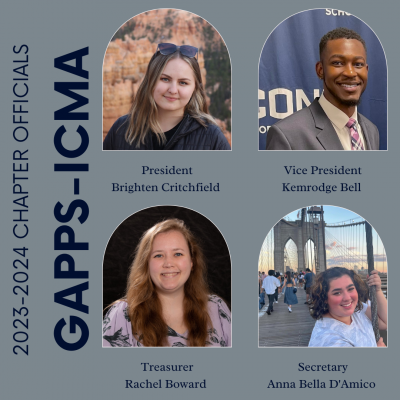 ---
What is GAPPS-ICMA?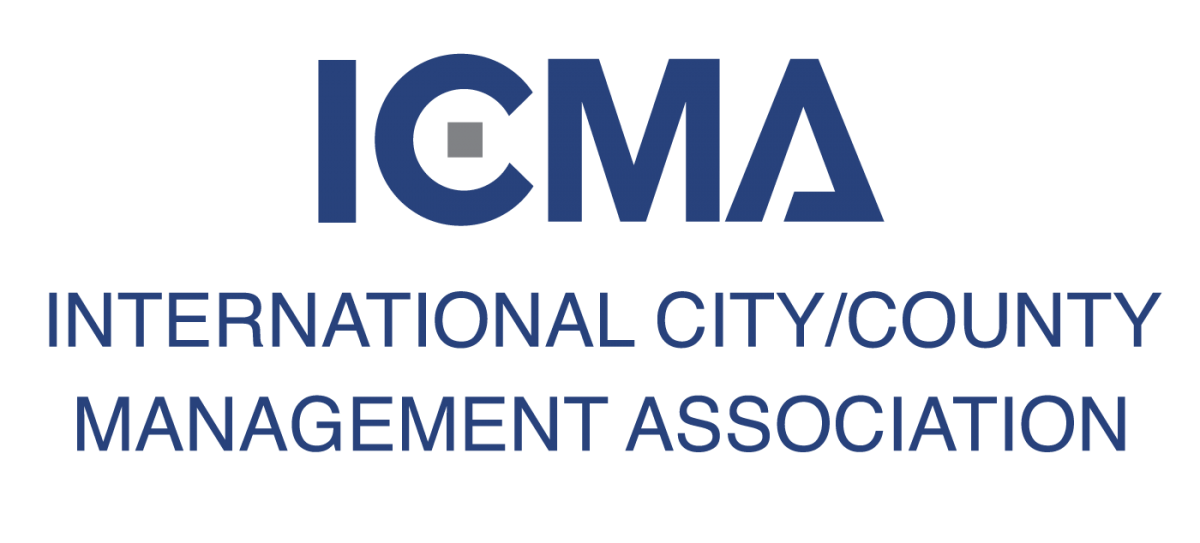 The Graduate Association of Public Policy (GAPPS-ICMA) – International City/County Management Association (ICMA) is the primary organization for the UConn School of Public Policy (SPP). Its goal is to serve as a social and intellectual forum for students pursuing a degree or certificate in the School. GAPPS-ICMA is committed to public service, professional development, and having fun. Throughout the academic year GAPPS-ICMA hosts a number of events that enrich students' social and academic experiences.
GAPPS is an International City/County Management Association (ICMA) student organization.
---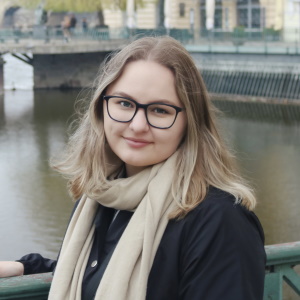 Undergrad Institution:
Boise State University
Undergrad Major:
Political Science
Hometown:
Burley, Idaho
Brighten Critchfield is a Master of Public Administration (MPA) student who spent the 2022-2023 academic year as a Teaching Assistant with Professor Kaye.
Brighten graduated in 2021 with a B.S. in Political Science from Boise State University, graduating Magna Cum Laude from the Honors College. During her undergrad career, she was inducted into the Phi Kappa Phi honors society and spent much of her time involved in local elections, student government, and general community engagement. With broad research interests, Brighten has worked on projects varying from municipal sustainability plans to international violence and resource scarcity. As a gap between undergraduate and graduate school, Brighten worked as a Legislative Aide in the Idaho House of Representatives for the 2022 session. As a first-generation low-income student, she hopes to use that background to further build and invest in quality social, educational, and poverty reduction programs and policies.
---
Undergrad Institution:
Eastern Connecticut State University
Undergrad Major:
Political Science
Hometown:
Manchester, CT
Kemrodge is originally from Ocho Rios, Jamaica. Bell graduated Magna Cum Laude from Eastern Connecticut State University with a BA in Political Science with a minor in Pre-law. During his time at Eastern, he made the Dean's list every semester, served as the President of the Pre-law Society, Vice-President of the National Association of the Advancement of Colored People (NAACP) ECSU Chapter, Secretary of the Human Rights Club, Peer Mentor, Teacher's Assistant, and was later inducted to the Pi Sigma Alpha Political Science Honor Society. Most of Bell's undergraduate work focused on Criminal Justice Policies, as well as other policies that would affect the advancement of minorities. He is currently pursuing a MPA with SPP.
For the 2022-2023 academic year Kemrodge worked as a Research Assistant with the Institute for Municipal and Regional Policy (IMRP). Bell's ultimate goal is to become an Attorney but believes that an MPA is very imperative for the goals he has set for himself and others. Kemrodge hopes to expand his knowledge through research and help with implementing policies that would better support the advancement of our communities.
---
Undergrad Institution:
University of Pittsburgh
Undergrad Major:
Sociology & English Writing
Hometown:
Pittsburgh, PA
Rachel Boward served as a Graduate Assistant with Professor Jinhai Yu for the 2022-2023 academic year. Originally from Moon Township, Pennsylvania, she attended the University of Pittsburgh from 2016 to 2019. In April of 2019, she completed her bachelor's degrees in English Fiction Writing and Sociology with a focus on Social Movements and Inequality. She also completed a minor in Gender, Sexuality, and Women's Studies at this time. During the summer of 2021, she completed a graduate certificate in Leadership and Organizational Change through Robert Morris University. Throughout her undergraduate career, Rachel participated in a number of service organizations including Alpha Phi Omega – Beta Chapter, Pitt's Food Pantry, and the Shepherd Wellness Center.
After graduating, Rachel worked for a year and a half as an Administrative Assistant at the University of Pittsburgh Medical Center's Western Psychiatric Hospital. During this time, she was able to learn about the creation and management of risk-free behavioral health environments and observe the actions of upper-level leadership as they worked to provide the best care for patients across the UPMC Behavioral Health Service Line. She also participated in WPH's LGBTQ+ Committee to assist in creating a more inclusive environment for staff and patients.
Outside of work and school, Rachel enjoys playing the flute with a community band in Pittsburgh and hopes to continue doing so in Hartford. As well, she is passionate about volunteerism, particularly for organizations with a social justice focus. In her free time between classes and studying, Rachel will continue to curate her monthly Spotify playlists.
As a graduate student, Rachel is working towards her MPA in the hopes of obtaining a position in local, state, or federal government after graduating. Her ultimate aim is to collaborate with other service-oriented individuals to expand access to services and ensure equitable distribution of resources for systemically and historically disadvantaged populations. Rachel is a 2023 Albert G. Ilg Fellowship in Local Government awardee.
---
Undergrad Institution:
The George Washington University
Undergrad Major:
American Studies and Peace Studies (minor in Political Science)
Hometown:
Buffalo, NY
Anna Bella D'Amico graduated Summa Cum Laude from The George Washington University with departmental honors. She received her Bachelor of Arts as a double major in American Studies and Peace Studies with a minor in Political Science. Anna Bella hails from Buffalo, NY but was born and raised in Staten Island, NY. She completed her senior capstone on the Black Panther Party and LA Gangs in the 1990s.
Anna Bella has over a decade of experience in nonprofit work at different organizations in varying capacities. Most recently, she worked for The Western New York Women's Foundation as their volunteer coordinator. She has a passion for community organizing and outreach and believes in centering nonprofit and service work at the heart of societal change. Anna Bella is a member of Alpha Phi Omega, a national gender-inclusive service fraternity, and served as the pledge educator for the Theta Chi chapter.
Anna Bella is pursing a MPA with a focus in Nonprofit Management, with the hope of becoming the executive director of a nonprofit.  For the 2022-2023 academic year she supported Professor Ruodan Zhang as a Research Assistant.