On Monday, May 8th Mistress of Ceremonies Professor Kerri Raissian welcomed the School of Public Policy's (SPP) Class of 2023 to the Bushnell for a Celebration of Graduates and Awardees. The graduates were joined by SPP faculty and staff, community members and their support systems. Our graduates hailed from Connecticut, Rhode Island, Idaho, New York, Rhode Island, New Jersey, South Carolina, Virginia, Washington, Canada, Ghana and Lebanon. 
School Director Mohamad Alkadry acknowledged the 18 Master of Public Policy (MPP), 9 Survey Research, 19 MPA Fellows and 46 Master of Public Administration (MPA) for their accomplishments. The MPA graduates marked the 50th graduating class for the program, and just in time for Public Service Recognition Week! Professor Alkadry encouraged the graduates to follow tradition, telling them to: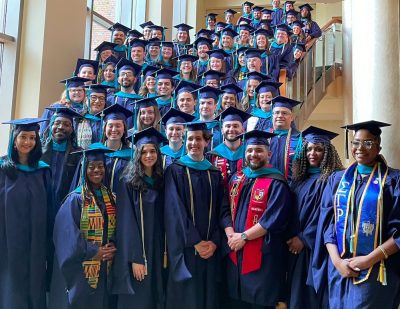 First, send us good students and hire our interns and graduates. My colleagues and I have a special place in our hearts for people who take good care of our students.

Second, Mentor a graduate student, help a current student prepare for their interview, and join our students in professional activities designed for students and alumni.

Finally, stay in touch with us – on Facebook, on Instagram, on Twitter, on LinkedIn and on our email listservs. Come to our events – in August we will have our Fall welcome back reception, and we have several alumni events every semester.
He concluded his remarks by acknowledging College of Liberal Arts & Sciences (CLAS) Dean Juli Wade for the final time. Dean Wade will be joining Rutgers University this summer, but before leaving the University of Connecticut, Professor Alkadry provided her with our Distinguished Service Award. Over the last four years she has supported our endeavors to transition from a department to school, expand course offerings and promote the College's strategic plan. Her remarks reflected on the last four years and called upon our members to think about ways to serve with their new knowledge and expertise. 
MPA Fellow Michelle Woods Matthews, who serves as the Director of Communications for the City of Norwalk, served as the Student Speaker. She opened her remarks by crediting the Class of 2023 for being talented, inclusive and passionate. Her speech included thanking the SPP staff and student support systems for helping the graduates reach this achievement. Amongst the graduates she emphasized a "shared zest for public service" and promoting equity." Throughout her speech she referenced different faculty members who have made an impact including Professors Bill Simonsen and Lloyd Blanchard. Leadership is required to create transformational change, and the Class of 2023 as Michelle noted already has strong leaders!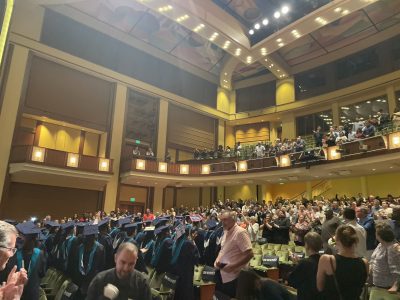 Lieutenant Governor Susan Bysiewicz spoke at the podium next as our Keynote Speaker. She highlighted how Governor Ned Lamont's administration holds a belief in creating a state that creates opportunity for everyone. Her words emphasized, "that by uplifting women we can uplift families, communities, the state and our country." Through the Governor's Council on Women and Girls, the administration is focused on advancing economic and social equity, creating more affordable housing, fighting climate change and providing good paying jobs for everyone. Professor Alkadry, alongside SPP students and alums, has worked with the Council to research pay equity. Their work has helped to close the gender pay gap and influence pay equity legislation, which has made Connecticut one of the most female friendly states in the country. In the Lieutenant Governor's office both the Director of Special Projects and Chief of Staff are SPP alums. She concluded her remarks by welcoming our graduates to run for office for the benefit of the state and country!
The evening's festivities included the recognition of our 2023 awardees next. Recipients included:
Chief "Many Hearts" Lynn Malerba shared a brief recorded message with our graduates. Her journey through the MPA was rooted in combining her MPA credential with professional experience in order to advocate for legislation and policy. When she initially planned to dial back her work, President Biden called upon her to serve as Treasurer of the United States. At the end of 2022 she signed United States currency. She provided the following advice to the graduates:
If you are offered a seat, take it. Represent all of the people that do not have the same opportunity to occupy that seat.

Don't hold on to career plans so tightly. Enjoy the whole ride and not just your planned destination.

Be someone else's cheerleader.
Chief Malerba's words remind us to take chances and serve. Her video was followed by Alumni Council President Christopher Brechlin who welcomed the Class of 2023 to the SPP Alumni Network.  He called upon the graduates to stay engaged, as the SPP network only grows stronger with the engagement of our alums. Shortly after Professor Raissian congratulated the graduates as they moved their tassels prior to the recessional.
---
At this time the SPP faculty and staff would like to once again extend a congratulations to the Class of 2023! We encourage you to keep us posted on your updates and opportunities at sppmedia@uconn.edu.