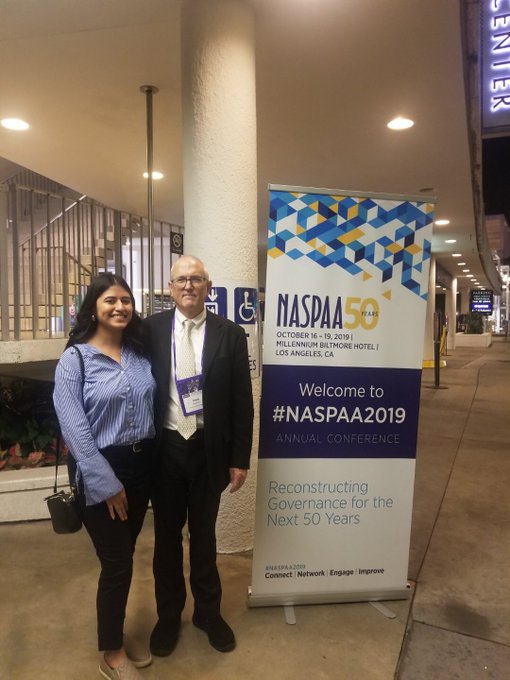 This semester UConn DPP Department Head, Dr. Mohamad Alkadry, Director of Communications for the CT Office of the State Comptroller, Tara Downes (MPA Fellow 20'), and Assistant State Comptroller Michelle Gilman presented their findings on "The Connecticut State Workforce: An Analysis of Representations and Compensation Equity Across Gender and Race-Ethnicity" across the state at various presentations. The trio presented at the Legislative Office Building in September and at Central Connecticut State University's "Overcoming Gender Pay Inequity in Connecticut" forum in November. DPP alum Veronica T. DeLandro also spoke, and current MPP student Caleb Pittman helped moderate. 
At the end of September, Professor Eric Brunner, Professor Mark D. Robbins, Professor Bill Simonsen and Assistant Professor Yusun Kim attended the Association for Budgeting & Financial Management (ABFM) Annual Conference in Washington D.C. During the conference, Professor Simonsen and Assistant Professor Kim presented papers. Professor Robbins presented an award. 
We kicked off October with Associate Professor Kerri Raissian presenting research on the connection between poverty and child maltreatment. Professor Raissian presented with UConn School of Social Work Assistant Professor Megan Feely at the Department of Children and Families/ Community Support for Families Annual Meeting.
In mid-October, the DPP headed to the 50th Network of Schools of Public Policy, Affairs, and Administration (NASPAA) Annual Conference in Los Angeles, California. Both faculty and staff presented on a variety of topics. MPA 2019 Fabiola Bachinel was also in attendance. Fabiola accepted an Accreditation Associate position with NASPAA earlier this year.
At the end of October, Distinguished Visiting Professor and Interim Director of the Sustainable Global Cities Initiative (SCGI) Dr. Robert Wilson attended the Coalition of Urban and Metropolitan Universities (CUMU) Annual Conference in Philadelphia, PA. SCGI launched earlier this semester as a university-wide interdisciplinary research unit that examines cities across the globe and develops new models of democratic, health, and sustainable urban life in partnership with public and private organizations.
We started November with Director of Nonprofit Leadership, Internships & Partnerships, and Encore!Connecticut Dr. David Garvey attending the CT Nonprofit Alliance Annual Conference in Hartford.
Mid-way through November Professor Brunner and Assistant Professor Kim presented at the Association of Public Policy Analysis & Management's (APPAM) 41st Annual Conference in Denver, CO. 
We concluded November and the semester with Dr. Raissian co-presenting with Dr. Feely and PhD. Candidate Kelley Fong of Harvard Sociology at the CT Data Conference. The trio shared how they use micro and macro data to challenge assumptions about child maltreatment. Assistant Professor Kim also presented at the National Tax Association (NTA) Conference in Tampa, FL.