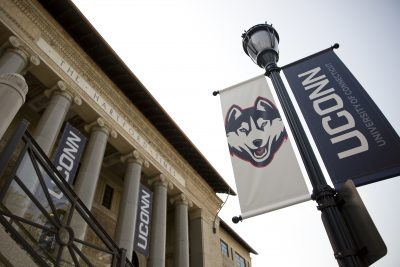 UConn's School of Public Policy (SPP) is proud to announce that the U.S. News & World Report has ranked our public finance and budgeting offerings as 8th in the country and 1st in New England! Among the 270 public affairs programs for this year's rankings, the DPP came in 39th and remains 2nd in New England. The top three public affairs programs in the region include Harvard University's Kennedy School and Brown University's Watson School.
Department Head and Professor Mohamad Alkadry notes:
The new rankings are a reflection of the reputation and impact of our faculty's research, teaching and service on the different public affairs disciplines. We are proud of what we do every day, and the rankings are a nice recognition that our impact is being noticed by our colleagues nationally.
The DPP currently impacts more than 50 state agencies, municipalities and nonprofits through paid internships. At a 100% internship placement rate for full-time graduate students, this year students will complete more than 30,000 hours of service.
Our faculty continue to make an impact with their research in a wide scope of areas. Some focuses this year include the environment and economic development, nonprofit management, representation of women and people of color, citizen willingness to pay and the impact of COVID-19 on child maltreatment. This year the DPP welcomed Dr. Nina Brooks and Dr. Charles Kaye-Essien to our faculty, Gregg Adler and Thomas "TJ" Jones to our adjunct faculty and Luciano Lawrence and Ryan Baldassario to our staff. 
For the last three years the DPP has welcomed its largest and most diverse graduating classes. Even with the impact of COVID-19, our network continues to be examples of public service at the local, state and federal levels. This year both students and alums were named to Hartford Business Journal's Power 50 and 40 Under 40 for their service to the State of Connecticut.
---
Interested in joining the DPP this fall? Admissions for the 2022-2023 academic year are still in progress. Our preferred deadline for Fall 2022 is May 15th. For more information please visit our Meet with Us page. The DPP admissions staff would be happy to assist you.
To keep up to date with our department, please visit us on Facebook, Instagram, LinkedIn or Twitter. Have news, a job posting, or an event to share? Email us at dpp@uconn.edu! We are always happy to support and spread the impact of our network!