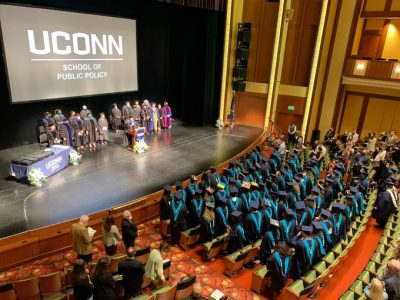 2022 was filled with moments of IMPACT here at UConn's School of Public Policy (SPP)! In no particular order, help us recap another fantastic year with a network dedicated to service.
#1 One of the most noticeable changes for our network this past year was becoming a School of Public Policy. Though our name may have transitioned from Department to School, our dedication to preparing students for public leadership remains the same. Our network will continue to produce applied research that solves societal problems, and we look forward to sharing our continued IMPACT for the years and decades to come!
#2 Each year we are fortunate to welcome new faces to our community as we expand our IMPACT. In 2022, we added Professors Renzo de la Riva Agüero and Jinhai Yu to our full-time faculty. Our adjunct faculty expanded to include Randall Griffin, Amy Keach, Melissa McCaw and Lilia Minaya. SPP staff grew to include Ryan Baldassario as Director of Engagement and Bryan Callender as Outreach Coordinator. Alum Catherine Guarino was named Director of Student and Academic Affairs after serving as SPP's Administrative Program Director since 2018. This academic year we also welcomed over 100 new faces to SPP classrooms. In 2023 we look forward to introducing David Mitre Becerril, Christal Hamilton and the Class of 2025 to Hartford and our network!
#3 This year's Celebration to Honor the Graduates was held at the Bushnell Performing Arts Center in Hartford, and included a presentation of our 2022 awardees. Our celebration featured College of Liberal Arts and Sciences (CLAS) Dean Juli Wade, student speaker Paula Norato and Keynote Speaker and Distinguished Alumni Award Winner Natalie Braswell.
#4 SPP faculty worked throughout 2022 to make resources accessible in addition to preparing our community to serve globally. We recapped their IMPACT in our 2022 Research Newsletter!
#5 Our final IMPACT is truly the engagement from all of you. Throughout 2022 we made an impression on over 1 million folks, and your ongoing support of our IMPACT is greatly appreciated. This year we published over 100 unique stories and we recommend checking them all out! In 2023 we hope to continue growing our audience, and welcome updates at sppmedia@uconn.edu.
And with that, what will 2023 entail? We may not be able to see the future, but we see a 50th Anniversary for the Master of Public Administration (MPA) on the horizon. May 2023 be a year of impact for you and your's. See you in 2023 Huskies!